Glass Pipes
A wide selection of glass from artists all around.
Vaporizers
A full assortment of vaporizers such as Puffco, Pax, Storz and Bickel, Davinci, G-Pen, YoCan and more.
Kratom
We carry kratom brands Kratom Kaps, OPMS, Chief Kratom, and Natural Health Botanicals. Capsules, Powders and Tincture Shots.
Papers and Wraps
We carry a large variety of wraps and papers. Raw, King Palm, Vibes, OCB, Camo, Tyson, Juicy Jay and much more.
Business Hours:
Monday - Saturday 10am - 9pm
Sundays 12pm-6pm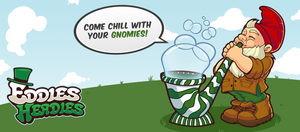 Cherry Picked Testimonials around the internet
From 20 to almost 1000 bucks, they have literally everything you could possibly be searching for. Let's also note and it never fails everyone of these guys have the patience of gods while you make what is possibly in most smokers top 10 purchases of their month/year. I do or have rather shopped at a couple other local stores but it never fails for what I want or style I'd like down to the price for it I'm always genuinely satisfied when I leave Eddie's. Absolutely love you guys! Thank you for these reasons and the multitude of others I could list and others can add!!!

Ian T/Google Maps
Awesome store, awesome staff and great selection!

Chris N/Facebook Pages
Such a great little shop with a lot of local items and nice employees! There are shirts, posters, incense, pipes, water pieps, bags etc. Fun local shop!

Chelsea D/Yelp